Most of the places are in the Little Rock area, but I did also include restaurants within an hour's drive. Remember, I'm not saying these are the best dishes in the city, rather, they are the best that I've personally eaten at some point during 2019. These are numbered but aren't in ranking order…
1. Salem Dairy Bar's Cheeseburger
We definitely have no shortage of great cheeseburgers in the Little Rock area, but you'd be hard-pressed to find a better dairy bar-style version than that at the Salem Dairy Bar. As you can see, the cheese is plentiful.
2. Pea Farm Bistro's Club Sandwich
If you follow this blog, then you know how much I love and appreciate a really good club sandwich. At Pea Farm Bistro, layers of thinly sliced Petit Jean ham and turkey, along with Petit Jean bacon, rest between grilled, not toasted, sourdough bread. Add mayo, Swiss cheese, fresh-cut romaine, and sliced tomatoes, and you have yourself a darn near perfect sandwich.
3. Heights Taco & Tamale Co.'s Cheese Dip
This is my clear cut favorite for best cheese dip in the area. Commence to arguing. The beautifully presented, slightly thinner, but perfectly spiced cheese liquid is served up in a cast iron skillet. It's an ideal meal starter at HTT.
4. Walker's Hamburger Steak
I'm a sucker for the simple comfort food dishes, and Walker's hamburger steak is just that. The no-frills, hand-formed patty is covered in a brown gravy and goes well with a side of mashed potatoes and cabbage.
5. Ciao Baci's Cheeseburger
This is Little Rock's best cheeseburger, and until another one comes along to prove otherwise, I'm sticking with that sentiment. It's a pub-style, fat patty burger with all of the traditional fixings. Yes, it's often difficult going to a place like Ciao Baci and ordering a cheeseburger, but trust me on this one.
6. Rosalinda's Chicken Tacos

I've never had a bad dish at Rosalinda's, and the chicken tacos, which are new to me, definitely didn't disappoint. These rolled-up, fried corn tortillas are stuffed with chicken and topped with pickled onions.
7. Baja Grill's Cuban Nachos
Baja Grill's Cuban Nachos are what dreams are made of … a pile of tortilla chips is topped with smoked pork, black beans, queso, jicama slaw, guac, and sour cream. Make sure to split these with a friend.
8. Wild Sweet William's Kolaches
I've written and said enough in the past about the kolaches at Wild Sweet William's in Searcy, so I'll keep my current thoughts brief. These are real-deal, authentic kolaches with soft, slightly sweet dough. And it doesn't matter which one you get … they're all fantastic.
9. kBird's Mango Sticky Rice
In my mind, kBird's Mango Sticky Rice and The Pantry's cheesecake are the two best desserts in Little Rock. While it's easy to load up on the entrees at kBird, you really should save a little room for this one. Ripe, sliced mango and creamy, slightly sweet rice make it a simple, yet perfectly executed dessert.
10. The Root's Smoked Shiitakes Mushrooms

Marinated and smoked Sweden Creek shiitakes are served with Root's award-winning cornbread, along with purple hull pea relish, and braised greens. Did I mention the cornbread?
11. Crazee's Club Sandwich
Once again, Crazee's Club lands on one of my "fav" posts. Every good club is about simplicity and execution, taking common ingredients and marrying them together. The star of the show here is the crispy bacon, which I know comes as a complete shock.
12. K Hall & Sons' Cheeseburger
As you'll see, I've been eating my fair share of cheeseburgers this year, and while my waistline hates me, my taste buds are happy campers. K Hall does a wonderful hand-formed patty, gives it a nice crust from a quality grill job, and adds all the usual toppings. It's simply one of the best burgers you'll find in Little Rock.
13. Soul Fish Cafe's Pecan Pie
This rich, decadent slice of pie is served warm and goes best with a heaping scoop of vanilla ice cream. That top layer of crispy, crushed pecans is what sets apart this version from many others.
14. Four Quarter Bar's Chimichanga
Why did it take me so long to try the food at Four Quarter? I guess it's better late than never. Kudos to the folks there who decided it was a damn good idea to stuff a massive flour tortilla with smoked pork shoulder and then fry it. This genius move has me already planning a return visit.
15. HallBros2Go's Purple Hull Peas and Greens
The Hall Family shows up once again on the list, this time with their food truck's side items of purple hull peas and greens. The tender peas pair just right with the greens, the latter of which lack even a hint of bitterness.
16. Maddie's Fried Chicken with Mac & Cheese and Greens
Some folks consider Maddie's fried chicken breast with mac & cheese and greens to be the very best dish in town. That's a conversation for another day, but I will tell you the combination of creamy mac with sweet greens and crispy fried chicken is off-the-charts good.
17. The Pizzeria's Meatballs
I'm honestly not even sure if the meatballs are on the daily menu. I think it's a special. Always ask. They are so tender and flavorful and the accompanying mini loaf of bread is ideal for sopping up excess oil and sauce.
18. Morrison's (Hot Springs) Fried Peach Pie
Truth be told, I've never been a huge fan of fried pies. They often end up being grease pockets with an awful filling-to-crust ratio. Not Morrison's. Thick, yet flaky crust gives way to a hearty portion of filling. So far, my favorite is peach, but everyone I've tried has been outstanding.
19. Deluca's Cheeseburger
By now, most people have heard about Deluca's cheeseburger. It's a blend of 50-day aged prime rib seared in a cast iron and served up with melted American cheese and a side of pickles. Nothing else. Well, maybe some salt. It's the best burger I've eaten in a very long time.
20. Kemuri's Sushi
I don't even pay attention to the names of Kemuri's sushi rolls. They all taste good and are massive. Some are fried and some are lit on fire. Again, you really can't go wrong with any of them.
21. El Palenque's Enchiladas
Let's be honest, I could have made a top 50 list of just dishes at El Palenque. The restaurant is that good. I mean, just look at that pic. It's pure art on a plate. Get the chicken or the cheese or the beef … it really doesn't matter.
22. Gadwall's Breakfast Sandwich
At Gadwall's, I get my breakfast sandwich with over-easy eggs, bacon, and cheddar on toast. It's a well-constructed sandwich, but truthfully, this isn't rocket science. I make versions of it just about every morning at home. So, what makes the difference? That damn bacon. Slightly crispy with just a perfect amount of flop, Gadwall's bacon rules.
23. The Pizzeria's Italian Sausage Pizza
True Neapolitan-style pizza does exist in Little Rock, and the first folks to do it well reside at The Pizzeria. Traits like thin, fold-able crust with charred edges is the name of the Neapolitan game.
24. Milford Track's Spinach Pasta with Grilled Veggies
Kudos to Milford Track, one of the only restaurants in Little Rock that makes its pasta from scratch. Get the spinach pasta with Alfredo sauce and grilled veggies. I promise you won't be disappointed.
25. Mama's Gyros Grill (Sherwood) Gyro
I love a good gyro but tend to be disappointed with the offerings in Little Rock. However, the version that Mama's in Sherwood is cranking out is well work the drive. A heavy hand of tender meat and tzatzki sauce make it a memorable one.
26. Ester's Appaloosa Veggie Burger
Ester's took over the former Core Brewing space, and, as far as I can tell, the food is very good. My veggie version of the Appaloosa Burger, a bean-dominate patty with fried onion strings on top, was delightful.
27. Table 28's Buffalo Fried Mushrooms
Chef Rains is always up to something creative, and this time it comes in the form of fried Chicken of the Woods mushrooms with a heavy hand of Buffalo sauce. This was a special from several months ago, so it's probably not on the current menu.
28. Flyway Brewing's Bean Burger

Yes, I know, another bean burger. But hear me out. While this one looks quite unappealing, it's actually super delicious. At Flyway, they deep fry the patty, so while healthy is out the window, tasty is certainly at the forefront.
29. The Pantry's Meat Board
If I ate The Pantry's meat board in 2019, which I did, you can damn well bet it will end up on this list. Sliced turkey, pate, brats, mustard, pickles … you name it. This "appetizer" is a must-order.
30. Boulevard Bread's Salmon Sandwich
A house-made bialy is topped with with cream cheese, smoked salmon, capers, mixed greens, tomato, and red onion … making for a sandwich masterpiece at Boulevard Bread.
31. My Little Pizzeria's Lasagna Pizza
My Little Pizzeria is serving up authentic, New York-style pizza in Benton. The crown jewel of the spot is the Lasagna Pizza, a thin-crusted pie with ground beef, ricotta cheese, mozzarella, Parmesan, and house-made tomato sauce.
32. Mike's Cafe's Pho

We have two legitimate pho options in Little Rock, and I can tell you the one at Mike's Cafe is much better than Pho Thanh My's version (which isn't bad). The broth is pure gold and those tender slices of steak, along with a ton of noodles, green onion, and cilantro, make this pho an absolute winner.
33. Cinnamon Creme Bakery's Cinnamon Rolls

We adore our cinnamon rolls in this town, and, for me, none is better than what Cinnamon Creme Bakery is cranking out. It's soft, rustic, misshaped roll is filled with an ample amount of cinnamon and topped with a cream cheese icing. And it comes in a variety of flavors, depending on what the bakers are in the mood to crank out that day. I highly recommend blueberry and pumpkin.
34. Doe's Fried Shrimp
While the Delta-style tamales, which come with a bowl of mildly-flavored chili, get all of the attention, the fried shrimp are where it's at. Plump and lightly fried, these delicious crustaceans come hanging around a bowl with accompanying tartar sauce. There's even a small pile of French fries on the side. Doe's isn't stingy with its French fries. If you ever want more, they seem more than happy to pile on an additional amount.
35. Crazee's Fried Catfish

I know fried catfish is a bit of a controversial subject in these parts, but IMHO, Crazee's has the tops in town. Deal with it. The thick pieces of heavily coated, perfected seasoned fish are always fried just right and served piping hot.
36. Leo's Greek Castle's Leo Burger

By now, it's quite obvious that I love cheeseburgers, and Leo's continues to serve up a great one. It's not pretentious … just a burger's burger. The double patty always plays well for me, as does the straightforward toppings and white bread bun. And cheers to American cheese!
37. The Pantry's Cheesecake
As long as I have a pulse and have a bite of The Pantry's cheesecake each year, there's just no way in hell it doesn't make this list. As stated, the dessert is definitely in the discussion as one of the best in Little Rock, mainly because of that thick graham crack crust and bruleed top.
38. Baja Grill's Smoky Chicken Tortilla Soup

This is the best soup in Little Rock. Why? The smoky chicken. It's really that simple. But look out for hints of chipotle, along with black beans, corn, tortilla strips, and sliced avocado, which all make this a must-order item at Baja Grill.
39. Bulgogi Korean BBQ's Spicy Pork Noodle Bowl
What a gem of a place that opened up in 2019 in Conway. Bulgogi's menu is fun, simple, and quite affordable. And while I love everything I've tasted so far, my favorite dish is the Spicy Pork Noodle Bowl. It comes with udon, a thicker, slick wheat noodle that pairs wonderfully with the pork. And make sure to add an egg.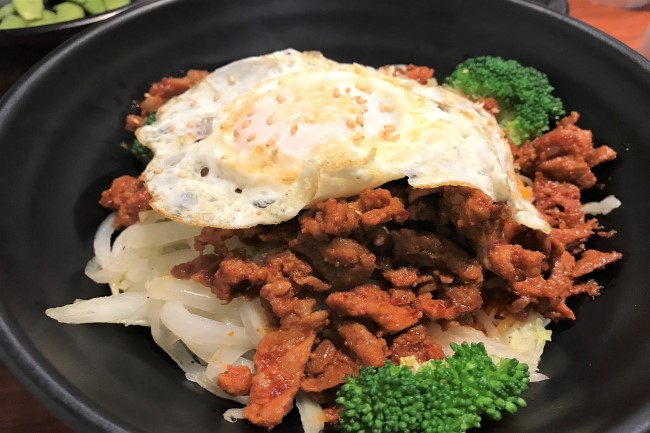 40. YGFBKitchen's Cajun Smothered Shrimp and Grits
Staying in Conway, make sure to check out YGFBKitchen–a food truck usually stationed near the heart of downtown–for the Cajun Smothered Shrimp and Grits. It's a $15 mountain of food that includes peppers and onions poured on top of stone-ground, creamy, cheesy grits, which is then topped with blackened shrimp and smoked sausages.
41. The Whippet's Coconut Cream Pie
I know Charlotte's in Keo gets a lot of attention for its pie, and rightfully so. It's outstanding. But The Whippet's (in Prattsville) might be even better. I loved the chocolate cream, but the coconut cream was off the charts good. Fluffy meringue, a hand-formed, buttery crust, and a thick, sweet filling all make this pie worth the 45-minute drive from Little Rock.
42. Arthur's Prime Steakhouse's Kobe Filet
I mean, what else do I really need to type about this steak? It's an 8-ounce Kobe filet cooked to a perfect medium-rare, for goodness sake. Arthur's is the king of steakhouse fine dining in Little Rock and this steak did nothing to disprove that sentiment.
43. The Faded Rose's Shrimp Tchoupitoulas
The Faded Rose's signature, buttery rich appetizer includes six large shrimp, garlic, and mushrooms, along with a heavy hand of minced parsley, chopped green onion, and seasonings. Oh, and of these wonderful ingredients are all soaked up by sliced Leidenheimer rounds. The dish almost isn't fair.

44. Ciao Baci's Pork Shoulder Chili
Ciao Baci makes its second appearance on this list with its Winter Menu offering of Pork Shoulder Chili. I almost never order chili at a restaurant, and certainly not one with black beans, or any beans, for that matter. But everything about this dish was fantastic, especially the tender pieces of pork shoulder and the tortilla chips with what appeared to be dusted with a house-blend seasoning.
45. Markham Street Pub and Grill
Yes, yet another club sandwich. And yes, Markham Street is a smoking establishment. But hear me out. This mammoth sandwich can easily feed two people, and it is legitimately fantastic. Phone in an order, hold your breath, and run in and pay. I promise it's worth it.
46. Seaton's Fisher's Old School Rings
The good folks at Seaton's in Scott got their hands on an iconic recipe and we are all the true winners for it. These hand-breaded rings are light, crispy, and fried just right. You will not find a better version.
47. At the Corner's Smoked Salmon Biscuit
Admittedly, I'm a sucker for all things smoked salmon (see Boulevard entry), so it wasn't a surprise that At the Corner's wonderful combination of ingredients (smoked salmon, egg, guacamole, and pickled onion) was met with favorable results by yours truly.
48. Gorditas Paty's Posole
If you're a fan of posole, then get in the car and head to Gorditas Paty on Geyer Springs Road. The vibrant, flavor-packed broth is filled with tender bits of pork shoulder and hominy. Top things off with dried herbs and lettuce (weird, I know, but it works).
49. Trio's Chicken Piccata
Simple but well-executed, Trio's Chicken Piccata is two perfectly fried chicken breasts topped with a delicate lemon sauce and heavy hand of capers. Mashed potatoes and asparagus come with it, making for a comfort food dish that continues to pop up on Trio's menu throughout the year.
50. Rocky's on Country Club's Philly Cheesesteak
Rocky's is back, and so is the Philly cheesesteak. It's done right … soft hoagie bun, tender, chopped beef with onions, and a bottom layer of white American cheese.